Since 2007, the Lebanese comics are very active and give birth to talented artist: «Dying, leaving and coming back » of Zeina Abirached, «Beirut, July-August 2006 » of Mazen Kerjab. The same year, ALBA publishing started to publish the cartoonist students 'work. The magazine Samandal, which just published its number 13, is very dynamic in the field. Let's mention «Sarab », the first interactive comic of the Arab world, from Lebanon: http://www.sarab.co/
Nadim Tarazi talks about Jorj Abou Mhaya's universe, in an article published in the cultural agenda in Lebanon: «2012 will be the year of Jorj Abou Mhaya », which first part of Madīnah mujāwirah lil-ard ('A city close to the earth') was just published by Dar Onzob.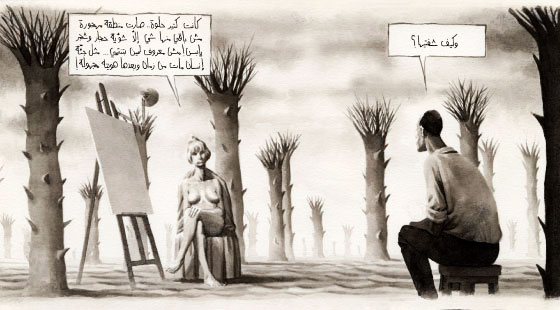 We plunge immediately into a special world. Abou Mhaya has obviously the talent to create an atmosphere. The first table announces the imminent catastrophe. The next one bring us back to a 'normal' daily life of Farid Tawil in a strange Beirut – clearly named – whereas the title suggest a small discrepancy and the Earth appears more than once in a dark and threatening sky.
Whereas the swing happens through a page – when, coming back from work, Farid discovers his house disappeared- the discrepancy impose slowly itself, just on time for the protagonist, and us with him, to embrace a shift which upset his life. All this is extraordinary well expressed by a beautiful black and white drawing, both detailed and dreamlike. The subject is not original; the dialogues are sometimes a little bit long: never mind. We are blown by the nightmare (as Farid said) that this average office worker (despite his name which means "unique") is living. It seems he lost everything. Its points of references have vanished. He is moving in a kind of Gotham City with a Batman changed into a Home affairs Minister. The exit? Madness? We will discover it in the second part which should not last, we hope.
After publishing Léna Merhej in 2007 – such a key year- is Dar Onzob getting a taste for comics?