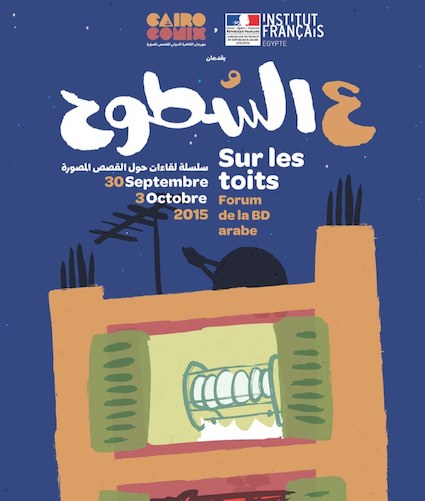 From 30 Septembre to 2 October 2015, the first international Arabic comic forum in Cairo honored Arabic comics. Cairo Comix festival was organized by a collective of comic artists, in partnership with the French Institute in Egypt gathered around twenty  comic artists and writers from Lebanon, Jordan, Egypt, Tunisia, Morocco. Researchers, like Mathilde Chèvre, from « Le Port a jauni » and Lena Merhej, and many other guestsparticipated in the event.
The festival program included four days of meetings with writers and illustrators, sales stands, and three evenings of exchange « on the roofs », « 'as-sotoooh » : What are the key obstacles in the emergence of a comic book industry ? », « Taboos, ideology and comic books in the Arabic world », « Is it possible to identify Arabic comic books ? ».
Long confined to children's books or to a public of insiders, young people and adult Arabic comics was in the spotlights. This recognition also appeared through collaboration with University : the American University of Cairo hosted meetings and the American University of Beyrouth sent researchers. Several speakers were double hatted : artist and researcher.
Does this mean that an Arabic comic book scene is emerging ? Enrike Klauss, a researcher in the Research Institute on Contemporary Maghreb, raises the question in an article at the site Orient XXI : summary of the main points and a sociological analysis of the actors.
More information :
Cairo Comix was created by a collective of Egyptian comic artists and writers, led by Magdy El Shafee (writer of the first Arabic graphic novel, Metro), Shennawy (founder of TokTok magazine), and Mohammed and Haïtham Ra'fat (Twins Cartoon et Garage).
Guest artists and writers :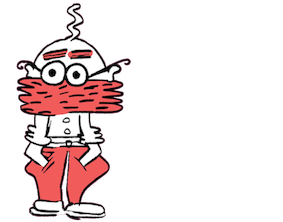 Algeria : Amine Benali, Rym Mokhtari, Samir Toudji
Iraq : Hussein Adel
Jordan : Wael Attili, Hassan Manasrah
Lebanon : Lina Ghaibeh, Joseph Kai, George Khoury (Jad), Lena Merhej, Fouad Mezher, Jana Traboulsi
Libya : Turkia Bensaoud, NourEldin Elhonie, Abdullah Hadia
Morocco : Mehdi Annassi, Zineb Benjelloun, Mohammed El Bellaoui, Salah Malouli
Palestine : Dia' Azzeh, Basel Nasr
Syria : Ibrahem Ramadan
Tunisia : Noha Habaieb, Othman Selmi
French Institute contact :
Dina Abou-Saleh : d.abou-saleh@institutfrancais-egypte.com