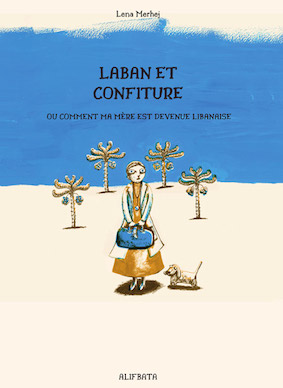 Welcome to the world of Lena Merhej, and her main protagonist : her mother, in the book that has just been published in French !
In the autobiographical story, the Lebanese artist reveals the trajectory of a German woman who settled in Lebanon in the 1960's, an active and thoughtful physician, a mother raising a large family, an hard worker and faithful friend… The reader is caught in the memories of a Lebanese childhood, in wartime. The ideas are associated freely, guided by words or images, started from an everyday object or snatches of conversation.
« I was a child, I could not see the seriousness of the situation. When I illustrated children books, I talked a lot with children. Maybe is it a way to reconver my inner child, and to laugh at tragedies that I was taught to dramatized ». Lena Merhej is inspired by the children world, with a mix of innocence and mischief.
« Laban and Jam » not only pay tribute to the mother and the courage of a determined woman, il also question with humor the boundaries between identities, the immigrant status, the integration strategies and life in wartime.
The comic book was published in Arabic by Samandal in 2011 in Beyrouth, and has been translated by Simona Gabrieli and Marianne Babut. The publication of this translated version by Alifbata association was an opportunity to invite the writer to meet the audience, through autograph session in Marseille and Paris.
The book is available in bookshops and can be ordered through Alifbata website.